Media
War on counterfeits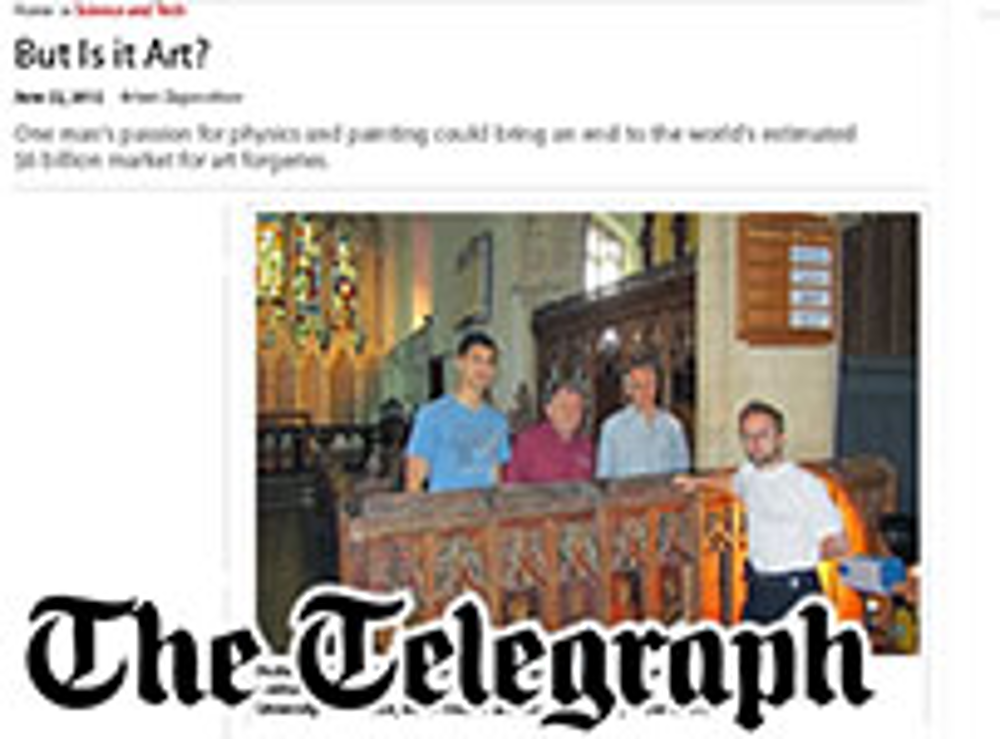 "The FBI says $6 billion is spent annually on mis-attributed or stolen art. "Around 1,300 'Rembrandt' paintings have been imported legally into the United States, but he only painted 400 [of them]," Mr Maev says, referring to data from the Rembrandt Research Project. "More than half of the Rembrandts in America are forgeries, but most owners – including museums – don't want to know. The implications for the art world are huge.
---
Technology sheds new light on art
"The team's efforts could also help distinguish forgery in the world art market, estimated to be worth roughly $60-billion by The European Fine Art Foundation, by determining when and where a painting was crafted. But the researchers say as physicists they can't make a final call on authenticity."
---
Satyr and the peasant by Jacob Jordaens: research and restoration
"From the images acquired during the analysis one can make the following conclusions. It seems possible that the painting has been completed in several stages since it contains several areas with altered details. It can be seen that the Satyr's right leg is painted over the tabletop. This allows us to conclude that the main character of this composition was probably added at a later stage of the painting's creation."
Antonova, I. and K. Tomlinson. Satyr and the peasant by Jacob Jordaens: research and restoration. Moscow: ScanRus, 2012, 115 p.
ISBN: 9785435000320
---
University of Windsor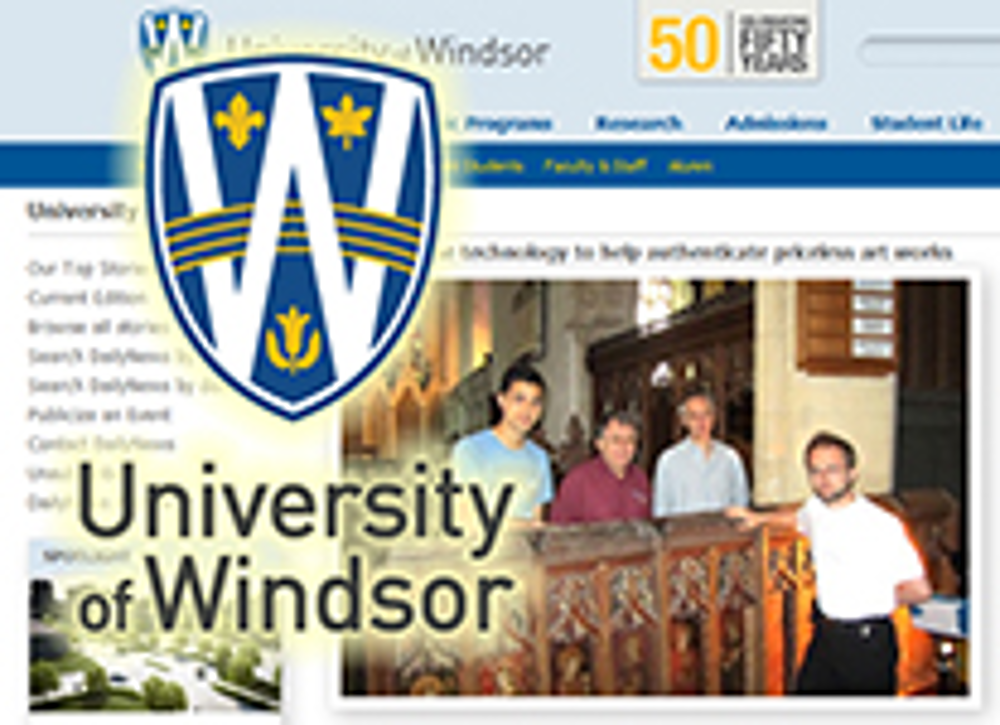 One of the most troubling dilemmas for collectors of fine art comes in discerning between genuine paintings and forgeries, but modern science is taking some of the guesswork out of the process. A pair of students recently spent two weeks at Cambridge University in England using state-of-the-art diagnostic imaging techniques to analyze rare pieces by some of the world's best-known painters."
---
St Petersberg
"As a spin off from the successful work of the Institute a high technology commercial company Tessonics based in Windsor Ontario has agree a memorandum of understanding with General Electric to develop a service to provide evaluation of artwork anywhere in the world using the technologies described above. It is anticipated that a mobile lab will be on offer to clients initially in Europe early in 2014."
---
Ottawa Citizen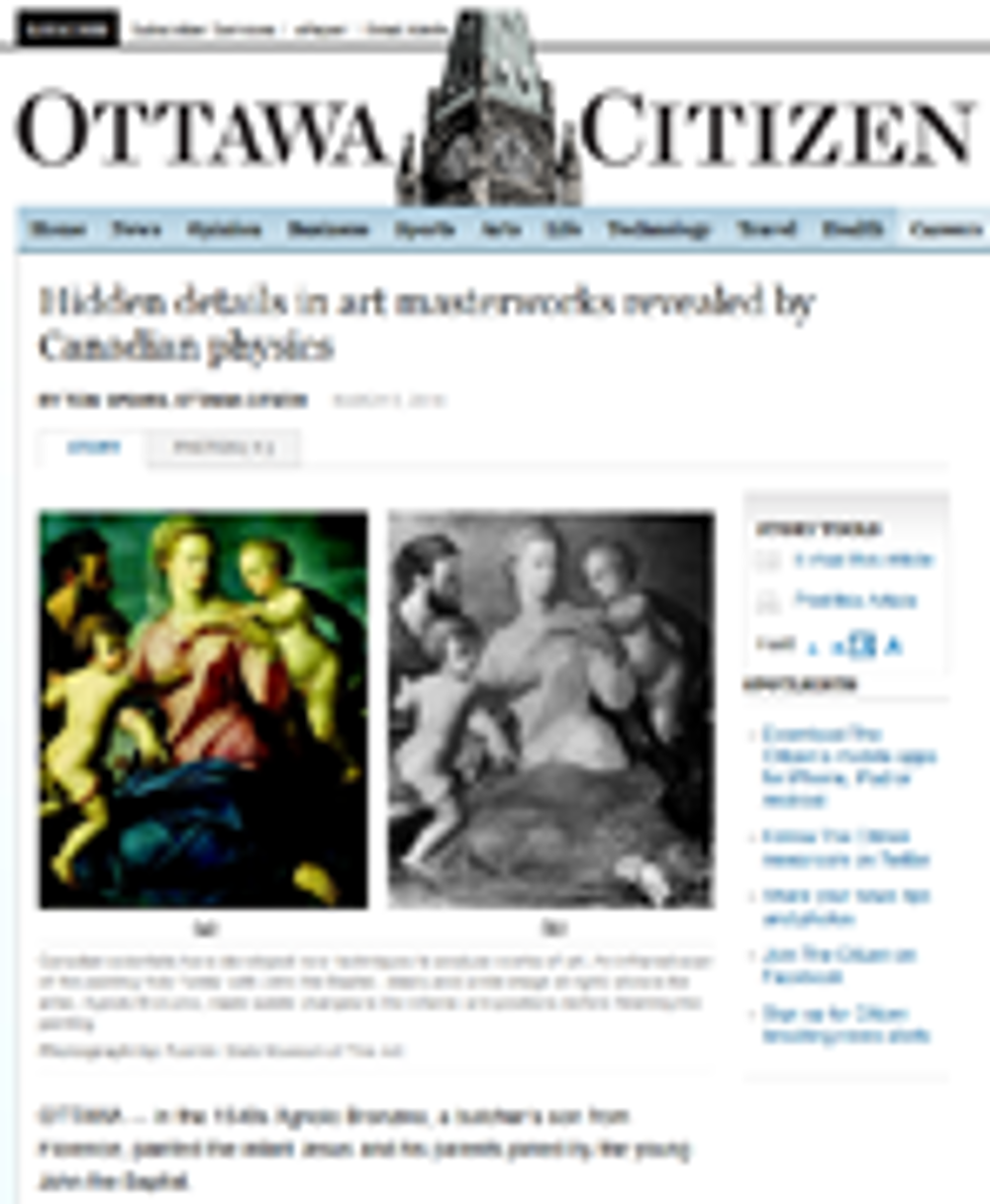 "Now Canadian researchers have scanned beneath the surface to show that Bronzino sketched his figures one way but shifted them subtly when painting them."
---
The Windsor Star



Windsor physicists bring high tech to high art
"When you're examining a priceless 400-year-old oil painting, a mere touch can cause irreparable damage. But according to a team of University of Windsor physicists, blasting the painting with a pulse of light can provide more detailed analysis - without laying a finger on it."
---
Canadian Journal of Physics
A review of imaging methods in analysis of works of art:
Thermographic imaging method in art analysis.
"This article discusses a number of modern techniques used for the analysis of works of art. The most widely used approaches as well as lesser known ones are outlined in terms of their applications and the kind of information on the condition of artworks that can be extracted. Special attention is paid to the method of thermographic analysis of works of pictorial art. The principles of the technique, various computational approaches, and safety concerns are discussed. A set of examples is provided for the demonstration of the capabilities of thermographic assessment, including a range of real canvas and panel paintings exhibited in museums and in private collections."
Gavrilov, D.; Maev, R. G. and Almond, D. A review of imaging methods in analysis of works of art: Thermographic imaging method in art analysis. Canadian Journal of Physics, 2014, 92(4), 341-364.
---